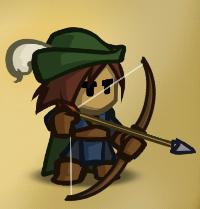 The ranger is a ranged class, focused on physically attacking enemies from a long distance, and using skills at strategic points on the battlefield.
The ranger was added as part of a content update (1.5) to Battleheart on July 29, 2011. (iOS only, the Android version does not have this update yet)
Character: Oakley
Weapons: Bow (lv 25 dog)
Armor: Leather
When target is selected, Ranger will continuously attack (range) the target.
Skills
Level
Choice 1
Choice 2
Basic skill

Aimed Shot

A precisely aimed shot which deals more damage the further away the target is. (20 sec cooldown)

5

Incendiary Arrow

Ignites the ground, dealing continuous damage to enemies who remain in the blaze. (30 sec cooldown)

Vile Bolt

A poisoned arrow which deals continuous damage and leaves the victim slowed. (30 sec cooldown)

10

Sniper's Sense

Your attacks have an additional 15% critical strike chance. (Passive)

Mortal Shots

The Ranger's basic attacks deal grievous wounds, reducing healing recieved by 75%. (Passive)

15

Barrage

Unleash a salvo of arrows that deals damage to all enemies. (30 sec cooldown)

Apollo Strike

A brutal shot that throws its victim to the ground for 8 seconds. (30 sec cooldown)

20

Critical Aim

Your Aimed Shot ability deals an additional 50% damage. (Passive)

Misdirection

Your special shots force their victims to attack your most armored ally. (Passive)

25
Canine Ally

You've befriended a hunting dog, who automatically attacks your target. (Passive)

30

Crippling Bite

Your dog ally distracts and harasses your enemies, reducing their damage by 15%. (Passive)

Thrash

Your dog companion becomes a whirlwind of terror, dealing damage to all nearby enemies. (Passive)
Ad blocker interference detected!
Wikia is a free-to-use site that makes money from advertising. We have a modified experience for viewers using ad blockers

Wikia is not accessible if you've made further modifications. Remove the custom ad blocker rule(s) and the page will load as expected.